Last week at Heritage Quilting, Elizabeth (one of the members) was telling me about a Wool Quilt that she made a few years back.  Well of course I asked if she could bring it in to show US…and low and behold that's exactly what she did!! 
Now I wish the pictures did this quilt justice.  When she unfolded it I literally gasped!!  I want to MAKE this quilt!!  It's scrappy, Fallish and screams WOOL top and bottom!!  Elizabeth said this quilt is on her couch and it is the one that EVERYONE wants to cuddle up to while they watch TV!
She used scraps of Wool from other projects, recycled coats and skirts…
Can you see how Elizabeth quilted it?  She machine quilted in the ditch and then outlined the fall appliquéd leaves and then sprinkled the ghost leaves here and there!  VERY effective!
Even the backing is wool…and there is Warm and Natural batting inside…SEW cozy!!
Yup another project for the ol'  (and very FULL) Bucket List! 
If you are into Wool then chances are you have plenty of scraps to make a quilt like this…or something similar…perhaps a snowflake quilt, a Christmas Quilt, a flower quilt…the ideas are endless!  
Ahhh don't you love wool?  Speaking of which…look what Vicky made!  G-orange-ous isn't it!!
Take a close-up look at Vicky's stitching…sheer perfection!!  Vicky came out of the womb with a needle and thread!  Just lovely…she is a born natural for wool work!! 
Do we have ANOTHER WOOL CRAZY on our hands?  I hope so…I was getting lonely!
Wonder what Vicky will be stitching next….?
Yahoo…LET'S GO TO THE HOP…oh baby…LET'S GO TO THE HOP…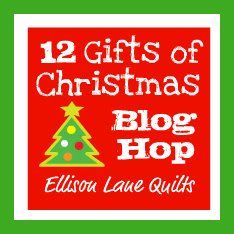 You may have already heard, but there is a great blog hop that started on Oct. 14th.  Jennifer from Ellison Lane Quilts pulled together 12 bloggers for 12 fun days of tutorials.   Each tutorial has great gift ideas for Christmas. 
Friday , October 14-  Ellison Lane Quilts
Saturday, October 15- Ayumi/Pink Penguin
Sunday, October 16- Amy/ Lots of Pink Here
Monday, October 17- Faith/Fresh Lemons Quilts
Tuesday, October 18- Penny/Sew Take a Hike
Wednesday, October 19- Kati/From the Blue Chair
Thursday, October 20- Lee/Freshly Pieced
Friday, October 21- Elizabeth/Don't Call Me Betsy
Saturday, October 22- Melanie/Texas Freckles
Sunday, October 23- Lindsay/Craft Buds
Monday, October 24- Amanda/A Crafty Fox
Tuesday, October 25-Vanessa/Little Big Girl Studio
Best of all there are fantastic Giveaways!  Lots of them.  If you have the time, it's not too late to start at the top and start visiting!!  Be prepared for some awesome tutorials…lots of gift giving ideas!  SEW…Let's Go to the HOP!!  (Now that song is stuck in my brain….sheesh!  Don't you hate that!)
Have a Terrific This and That Tuesday and Happy Quilting!~P