Everything is better when you do it with a friend…even ordering fabric! 
Both Claire and I have been lusting over Lynette Anderson's new line of fabric, Scandinavian Christmas…
…we waited patiently for it to come into our local Quilt Shop…but finally succumbed to the internet and ordered on-line.  
We got twelve half yard cuts and then split them down the middle…shared the cost of shipping and it was surprisingly cheap!!  Much cheaper and way more fun!  AND we can always say… "But my Partner in Crime bought it and it was way too much for her, so we shared…"  That's just in case 'someone' asks…
…HEY it works for us..
And we are sticking with it!
Now what to make…??  Maybe this??…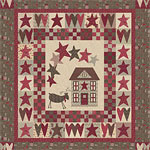 ..which is a FREE PATTERN from Lecien and you can get it HERE!!  SEW cute, don't you think?!
So the moral of the story is always do it with a friend…it's way cheaper and way more fun!!  :o)
For those of you who are interested in our hellish tiling job…
We went from this~
..to this…
…to this!  YEAH…the tile is down. 
Today we need to finish cleaning the tiles, then wait another 24 hours to grout in between each tile and then seal the grout and she is done!! 
This is our LAST EVER tiling job!!  Every muscle and every bone is aching…even my toes!!  BUT I do LOVE it!!  As I said to my husband…this is a lot like having a baby…hurts like hell but you forget about the pain when you see the results.  He looked at me like I was CRAZY!!  "What…?!"  Men just don't get it!! :o}
Have a thrilling Thursday and Happy Quilting!~P